Living in the wonderful city of Barcelona
Every year Barcelona is most popular tourist destination. This is hardly surprising due to its' culture, opportunities and architectural beauty. When thinking about Barcelona many people will immediately think about iconic monuments or superstar athletes. However, the city has so much more to offer than just that. 
The city is home to some magnificent architectural works that help to create an atmosphere of beauty, creativity and fantasy.  Some of Barcelona's most impressive monuments include the Sagrada Familia, Casa Batlló, Park Guell and many others. 
One of the other attractions of this global capital is the seemingly endless gastronomic options. The range and diversity of restaurants, bars and cafés is typical of Barcelona's culture. All year round bars and restaurants are packed to the rafters with satisfied customers.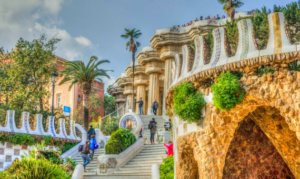 Barcelona also offers a huge amount of activities such as excursions, museum visits, parties, conferences, and fashion shows. Sports lovers are also at home in Barcelona as there are always lots of different sports events going on. Being home to the Camp Nou, there is always an exciting spectacle to behold. 
Now that you have a better idea of what the city looks like we should probably talk about the people that live there. As it is a multicultural city there are people from all over the world so you can constantly learn about other cultures and practice your language skills. 
All in all, there is no doubt that due to being an international and dynamic city Barcelona is full of opportunities, benefits and amazing people. Why not take the chance to discover the secrets of Barcelona?